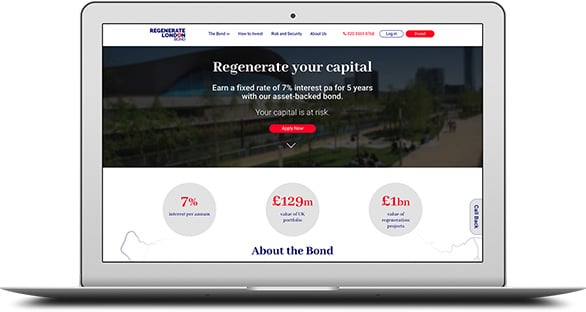 Building CRM Driven Investment sites, generating millions of pounds worth of revenue.

Regenerate London was established specifically to offer an attractive fixed rate of return to investors who want to indirectly participate in the regeneration of London's real estate.
TIGHT INTEGRATION WITH ZOHO CRM AND GCEN FINANCE PORTAL
Allowing direct registration and investment online in the available bond products. Portfolio Dashboard for investors to track purchases.
API INTEGRATION - ZOHO CRM AND GCEN FINANCE GATEWAY

A COMPREHENSIVE SOLUTION FOR UK BOND INVESTING DEPLOYED TO 4 COMPANIES
This and the other bond sites we have built utilise a comprehensive middleware script that allows enquiries, registration with both the company and with the finance portal, online investment in real time, full tracking of fund placment, auto-updating of portfolio status and dashboard allwing multiple investments and investment tracking